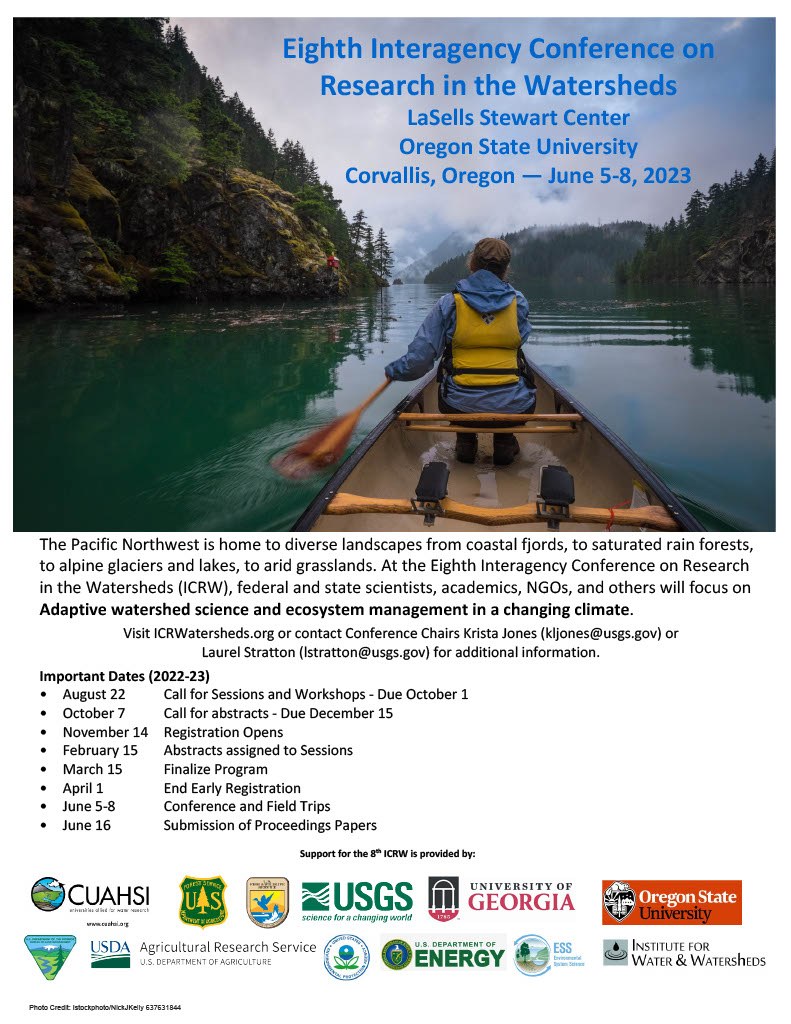 The Interagency Research in the Watersheds conference (ICRW8) will convene June 5-8, 2023 in Corvallis, Oregon.
The conference aims to bring together watershed scientists, stakeholders, and managers to share scientific advances and management strategies to sustain the country's water resources, spanning streams, rivers, lakes, and estuaries. This year's theme is "Adaptive watershed science and ecosystem management in a changing climate." Presenters will include researchers from government, academic, nonprofit, and community organizations working to protect, restore, and manage water resources at local to national scales. Topic areas include:
Adaptive management for climate change
Cross-region collaboration in watershed research
Integration of science and watershed decision making
Long-term agroecosystem research
Regional groundwater issues
Remote sensing of watersheds and riparian systems
Water quality and quantity
Watershed ecology and ecosystem services
Watershed modeling, management, planning, and regulation
In addition to presentations and pre-conference workshops, ICRW8 will also provide conference goers with field trips of local research sites and regional landscapes. These field trips are scheduled mid-week and provided at no extra cost to participants.
Call for Special Sessions
We invite you to submit a proposal for special sessions at ICRW8 by October 1, 2022.
Session Format
Sessions last 90 minutes.
Each session should have between 5 and 6 oral presentations.
Each presentation should last a maximum of 15 minutes.
The session can include active panel discussion moderated by session conveners.
How to Propose a Special Session
Please send the following information to Liz Keppler (elizabeth.keppeler@usda.gov) to propose a special session by October 1, 2022.
Session title
A brief summary of the proposed session describing its potential impact (maximum 500 words)
Examples of presentations that may be included in the proposed session
Target audience
Name, affiliations, and contact information of the session's organizers (one or two people)
Call for Workshops
ICRW8 will hold workshops on Monday, June 5 prior to the kick-off of ICRW8.
Please submit workshop ideas, including the following information, to Phil Heilman (phil.heilman@usda.gov) by October 1, 2022.
Workshop title
A brief summary of the proposed workshop describing its goals and potential benefits for attendees (maximum 500 words)
Target audience
Name, affiliations, and contact information of workshop instructors
Upcoming Dates
Abstract submission – October 7, 2022 to December 15, 2022
Conference registration opens January 2023