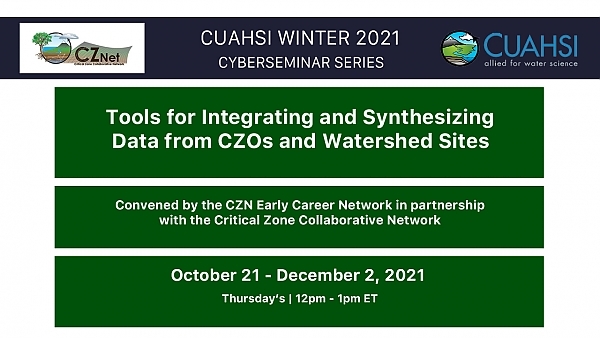 Statistical and information processing approaches
November 11, 12pm-1pm ET
Description: Coming Soon
Speakers:
Facilitators:
This talk is part of the CUAHSI Winter 2021 Cybersminar Series Tools for integrating and synthesizing data from CZOs and watershed sites. Series description below.
Please join watershed science researchers and CUAHSI for a webinar series on transferable and broadly applicable tools, workflows and simulation capabilities. The goals for this series are to understand the portfolio of innovative and computationally advanced cyberinfrastructure tools, workflows and modelling approaches that aim to improve our understanding of critical zone functioning. Each webinar will provide an overview of the key capability followed by a discussion of the potential use in cross-disciplinary integration and cross-site synthesis activities.
This is the 2nd of the Critical Zone Observatory (CZO) Cyberseminar Series. Convened by the CZN Early Career Network in partnership with the Critical Zone Collaborative Network. Click here for more information on the first series held Fall 2021: Introduction to critical zone observatories and watershed sites.